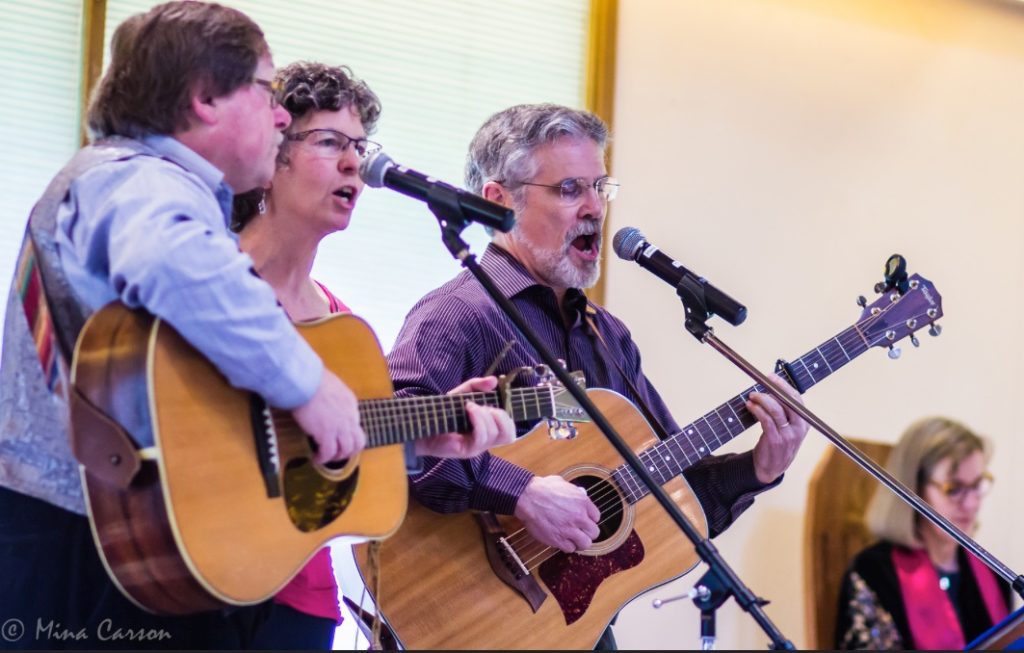 The UUFC has a vibrant music program with many opportunities for members and friends to get involved, regardless of skill level. If you love to sing or have instrumental talents to share, please join in!
Our Sunday services feature a variety of musical styles from many traditions. The many UUFC members who share their talents and professional musicians from the community all contribute to the rich musical offerings on Sunday mornings. Outside of Sunday Services we have concerts, sing-alongs, and Music Sharing Nights. The music we share and participate in together helps us realize the larger mission of the Fellowship to Explore, Love, Act.
Interested in getting involved in music at the UUFC? You can reach music director David Servias at music@uucorvallis.org.
UUFC CHOIR
The choir rehearses every Wednesday night from 7 to 8:30 and provides music two Sundays each month. This dedicated group works hard to provide choral music that uplifts and inspires all who hear them on Sunday mornings. This year the choir will present two full-length afternoon concerts. In addition to making beautiful music, the choir works hard to provide a supportive and welcoming environment that offers love, support, and acceptance to all its members. We frequently gather outside of rehearsals for potlucks, workshops, and other events. All singers who are willing to commit to coming to rehearsals and give their best effort regardless of musical background or skill are welcome and encouraged to participate. If you would like to find out more about choir, please contact music director David Servias.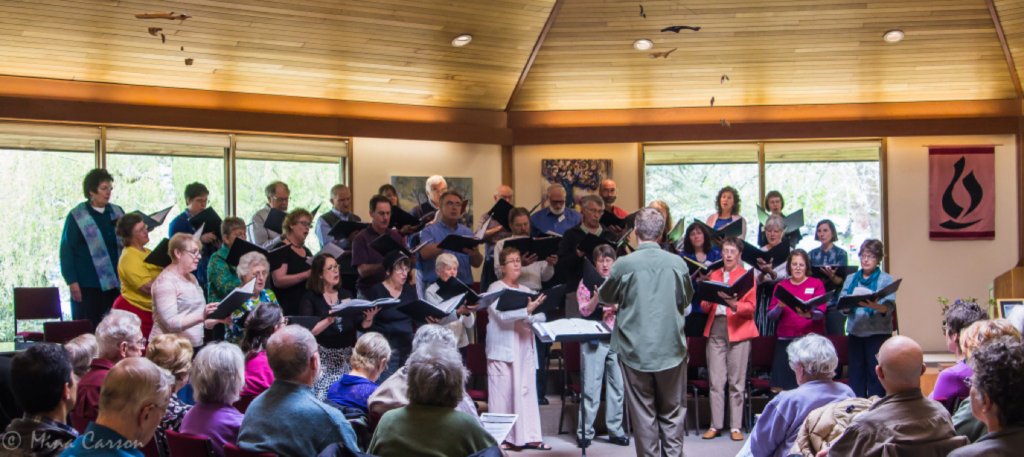 DROP-IN CHOIR
This choir consists of many of the same people as the UUFC choir, but is open to others who are unable to make the commitment to regular Wednesday night rehearsals. On the second Sunday of each month we meet at 8:45 to learn a song or two to sing that day at the services. As the name suggests, you are welcome to "drop-in" to sing with this group any time you like.
SPECIAL MUSIC EVENTS
We have a variety of opportunities outside of Sunday services where music can be heard. Music Sharing Nights, where members share their musical talents, are becoming a tradition and are popular events. Examples include singer/songwriters performing their own songs, Vietnamese folk songs, trombone duets, piano solos and African drumming. Some have made their musical debut at Music Sharing Night, performing in public for the very first time. In December we have a Holiday Sing-Along where families and people of all ages from the community are invited to share cookies and hot chocolate and join in singing traditional Christmas Carols. There are a number of concerts of visiting artists as well as two concerts offered by our own UUFC choir. See the Weekly Announcements for information about special musical events at the UUFC.
Return to HOME page.
OUR MISSION…  Explore. Love. Act. We gather as an inclusive religious community to search for meaning, build deep connections, and inspire action toward a better world for all.