Involvement in the Fellowship during Coronavirus and Social Distancing
While we are not gathering in-person, there are still many ways for us to stay connected and be in community together. 
Here's a list to get you started:
Weekly Online Events and Offerings
Each weekday, a UU-Announce is sent out with a Daily Practice.
Each weekday, join us on the Fellowship's Facebook page (https://www.facebook.com/uucorvallis/) at noon for a live Meditation.
Each Wednesday at 11:30, join us for Virtual Coffee Hour and sharing of our Joys & Sorrows. Watch UU-Announce for the weekly Zoom link.
Each Friday, a UU-Announce is sent out with the sermon title, sermon description, and a link to the Weekly Announcements.
Each weekend, a UU-Announce is sent out with the link to the Sunday sermon. We invite you to light your own Chalice and watch it on Sunday morning.
Each weekend, and mid-week, a UU-Announce is sent out with a Religious Exploration (RE) Podcast.
 Special Online Events and Offerings

*Are there any additional offerings that others are welcome to join? Please email Jamie at office@uucorvallis.org so we can include them here and in the upcoming weekly announcements
Other Information
The final Leadership Supper of the year was cancelled, but you can read the Leadership Update from Rev. Jill McAllister and Board President Scott Bruslind.
Choir
Choir rehearsals are currently suspended due to the Covid-19. More information will be posted as things change. When it is safe to do so, we look forward to singing together again!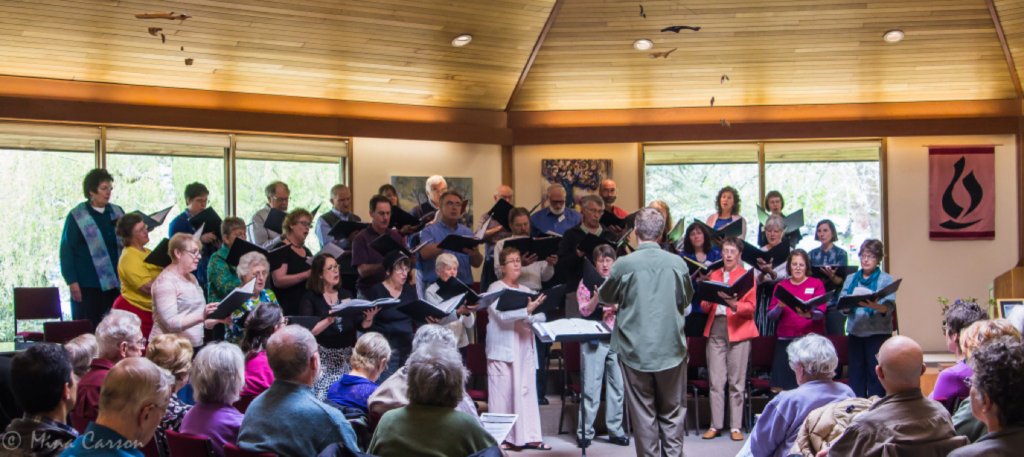 How to Get Involved in the UUFC!
Members and friends of the UUFC have many reasons for being part of this religious community. Often they say they come for their children, but end up staying for themselves. Some just love to sing and quickly find their place in the choir. Others seek spiritual or personal inspiration for daily living, while still others want to add their passion to social or environmental justice causes we support. Some members are retired and may choose to spend time to become quite deeply involved in one or more of the Fellowships many activities. But, of course that is not the case with all members. We encourage your involvement to whatever extent best fits your interests and lifestyle.
Sharing conversation over meals is an important part of life at the UUFC.
So whatever drew you here in the first place, we invite you to get involved, build your own community, and become part of our "beloved community." If you have a particular interest, talent, or passion you'd like to share, let us know. No doubt you'll find the opportunity to engage with like-minded others in this community. Get involved and you'll find that the old truism applies – "I get back more than I give!"
Members helping out in the kitchen.
Here are a few of the myriad ways to get involved –
Worship together on Sundays
Raise your voice as part of our wonderful choir
Become part of a volunteer teaching team for children or youth programs
Break bread together at an Action Lunch, a Fellowship potluck, or a 7 at 7 Dinner
Give of your time, talents, and financial resources to support the Fellowship
Join a Chalice Group and get to know a small group of members and friends in a more intimate setting
Take an Adult Religious Exploration class
Like leadership roles? – Serve on a committee, the Program Council, or the Board of Trustees
Become a member of the Caring Connection
Participate in other Fellowship events during the week – this website and the UUFC Weekly Announcements have information on various Fellowship activities. Check them out!
Below you'll find descriptions and contact information for UUFC programs, activities, and committees you might enjoy. You can also learn more about these at a First Steps presentation here at the Fellowship every fourth Sunday of the month at 11:00 AM (10:00 AM in the summer).
Link to UUFC PROGRAMS AND ACTIVITIES – Get Involved!
link to UUFC COMMITTEES – Get Involved!
Return to HOME page.